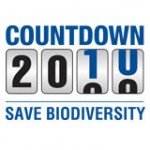 2005-2008 | IUCN and Partner Organizations
What to do about a global target to halt biodiversity loss by 2010? Correct: Gather a coalition of more than 1.000 organizations that shows governments how it's done and constantly reminds them to do their bit.We set up the foundation of the coalition, starting from the declaration that was signed by every partner organization to the website and constant reporting from activities in the field.   We then promoted biodiversity conservation in development cooperation, corporate social responsibility and local policy making with a series of conferences and publications.
Campaign: Countdown 2010 – Save Biodiversity!